Experimental games
Here we will be posting experiments that never turned into actual published games but you might find interesting.
If you want to see any of these games published for real, let us know!
Pop the bricks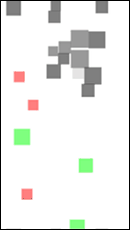 Pop as many green bricks as possible. You pop them by clicking/tapping on them. If you tap a red brick, it will freeze. If a green brick reaches the top of the screen, or another frozen brick, it will also freeze. These bricks keep moving faster and faster. You have to be quick before the screen fills with frozen bricks.